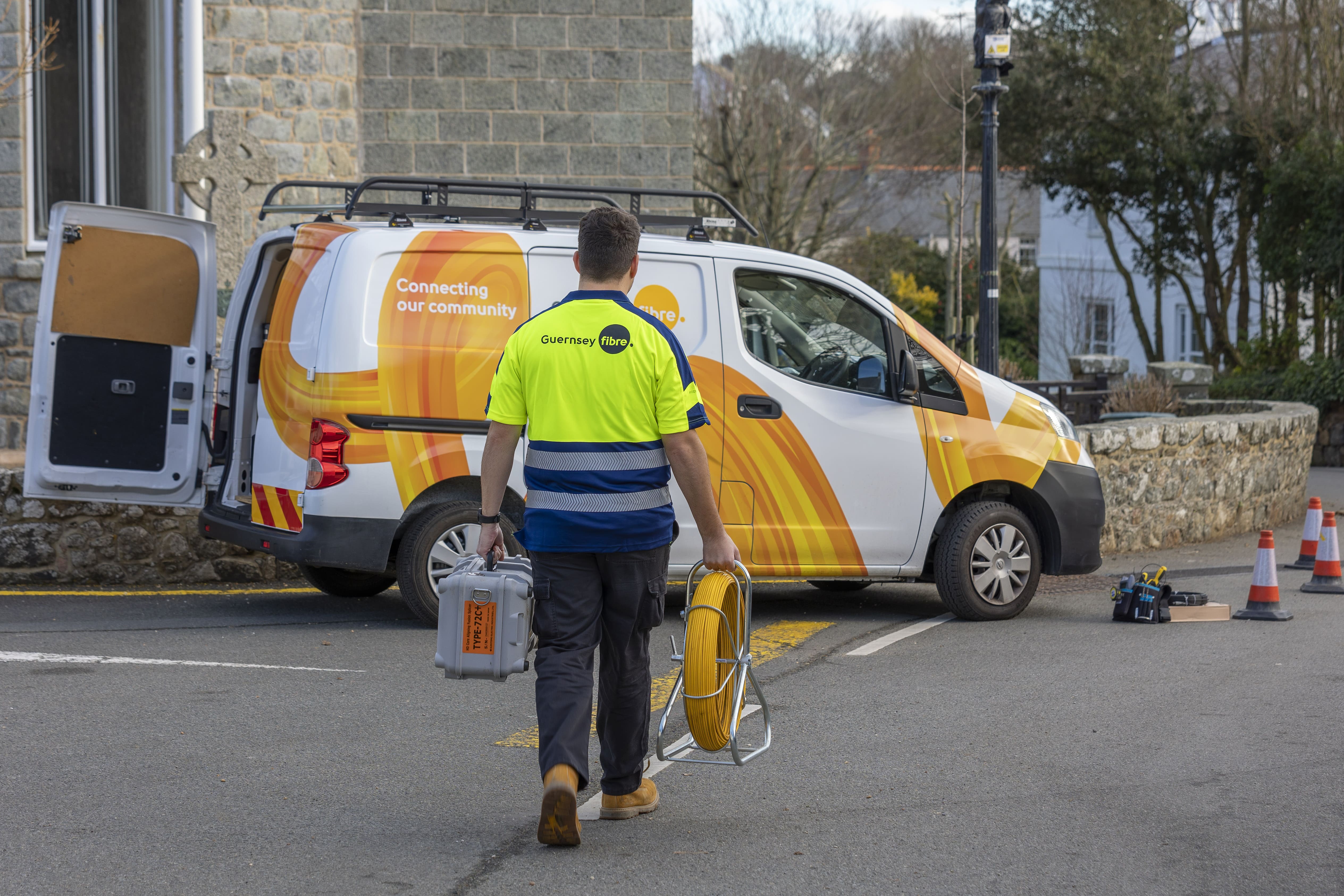 Looking forward to fibre: 10 questions with Guernsey Fibre's Programme Director
We asked Richard Cartland, Guernsey Fibre Programme Director, 10 questions about what's in store for fibre installations in Guernsey.
The rollout is now at full speed, are you pleased with how it's going?
I'm over the moon with the progress; we're ahead of our rollout plan and already have a quarter of properties fibre ready. We have steadily scaled up to get everything right and to reach our target of making 700 new homes every month ready to connect. The aim is to maintain this momentum and I'm very confident we will have half of the island fibre ready by the end of this year (2023).
Currently we're also connecting 700 properties a month - from small cottages to large blocks of flats. Take-up has been great and so far, we've seen 30-50% of islanders sign up to fibre, depending on the area.
How much has the team grown?
Overall the project has created 75 new jobs in Guernsey. 30 are at Sure, 35 at Geomarine and 10 at the other smaller local suppliers we're working with. Most of the roles have been filled, we're just looking for a few more Fibre Installation Technicians.
70-80% of people hired to work on the project have had no prior experience of fibre networks and have been trained up from scratch. It takes two-to-three months of training both on the job and at our offices, with our full-time trainer teaching technicians how to install the fibre network both outside and inside customers' homes. Ensuring safety and quality is of the utmost importance before people are ready to go out on their own.
We've also hired people who have just graduated from GCFE, right through to a few who have come out of retirement, and everything in between. Our engineers and technicians get to see every bit of Guernsey life as they work around the island. One even bravely split up two fighting dogs recently!
How's the relationship going between the suppliers?
Really well! We've forged true partnerships and are working with local suppliers both large and small. We have a 'One Team' ethos, and all work together as one Guernsey Fibre team to get the job done. Before we started the work, we spoke with the suppliers to agree how much scaling up they'd be comfortable with and over what timescales.
All seven of the external suppliers we've contracted are local companies, from satellite and aerial installation firms to structured cabling specialists. We recognise the significant £12.5million investment by the States of Guernsey and have committed to keep as much of this investment in the local economy as possible – investing in contracts with local companies who can then hire people on island.
What challenges have you faced?
Sideways rain! I didn't even realise rain could fall any other way than straight down.
As well as the rain, scaling up to hit the required 700 homes each month without having too many engineers working at the same time and place was an ambitious challenge we set and achieved.
How many miles of fibre cables have been laid?
Approximately an amazing 150 miles of fibre optic cables were laid last year. These cables range from access cables containing four fibres to spine cables with 144 or 288 fibres.
3,579 fibre connection boxes have been installed on poles and in footway boxes and 1,682 underground fibre nodes have been built. It actually only takes one-to-two hours to install a cable in the road. It's not a purely civil engineering project, although the rollout does involve this type of work from time-to-time. We're overlaying the fibre cables onto the existing underground network, so disruption is kept to a minimum.
How many hours have been spent on the rollout?
Gosh, thousands.
What's your best memory so far?
Being offered the opportunity to work in my favourite place. I've been coming to Guernsey for 40 years. The fibre rollout gave me the opportunity to work doing what I do in a place that I know and love. The team has even given me honouree 'Guern' status as they are impressed that I know as much about the island as some of them.
It's also been great knowing what a brilliant job the team have done so far and it's a privilege to know that we're installing a network that will have such a positive impact on the island.
What's the one thing you want people to know?
You can get much faster speeds and better reliability with fibre, for the same of less cost than the copper network. There are also some great offers from the service providers if you switch within the first year of fibre being available in your area. The installation is straightforward and takes around two-to-three hours and even less in apartment blocks, so why not upgrade to the ultrafast and reliable network sooner rather than later?
What are the next steps?
To keep doing what we're doing. We have an operating model that works and are building all over the island. We'll be starting to retire the old copper network in some areas from May 2023 and are planning this slowly and carefully – of course communicating with customers lots before we do this.
We'll also make more progress in St Peter Port which will present its own challenges as it has a large percentage of multiple dwelling units, such as apartments, older more congested ducts, and many old and prestigious buildings to contend with. Although I'm sure there won't be anything too troublesome for our team.
What are your hopes for the project?
I hope to build on the great success we've had so far and I also hope that we deliver the rollout on or ahead of time and on budget- without sacrificing safety, quality, or our reputation. So far, so good and it's all thanks to our fantastic hardworking team and the cooperation of islanders.