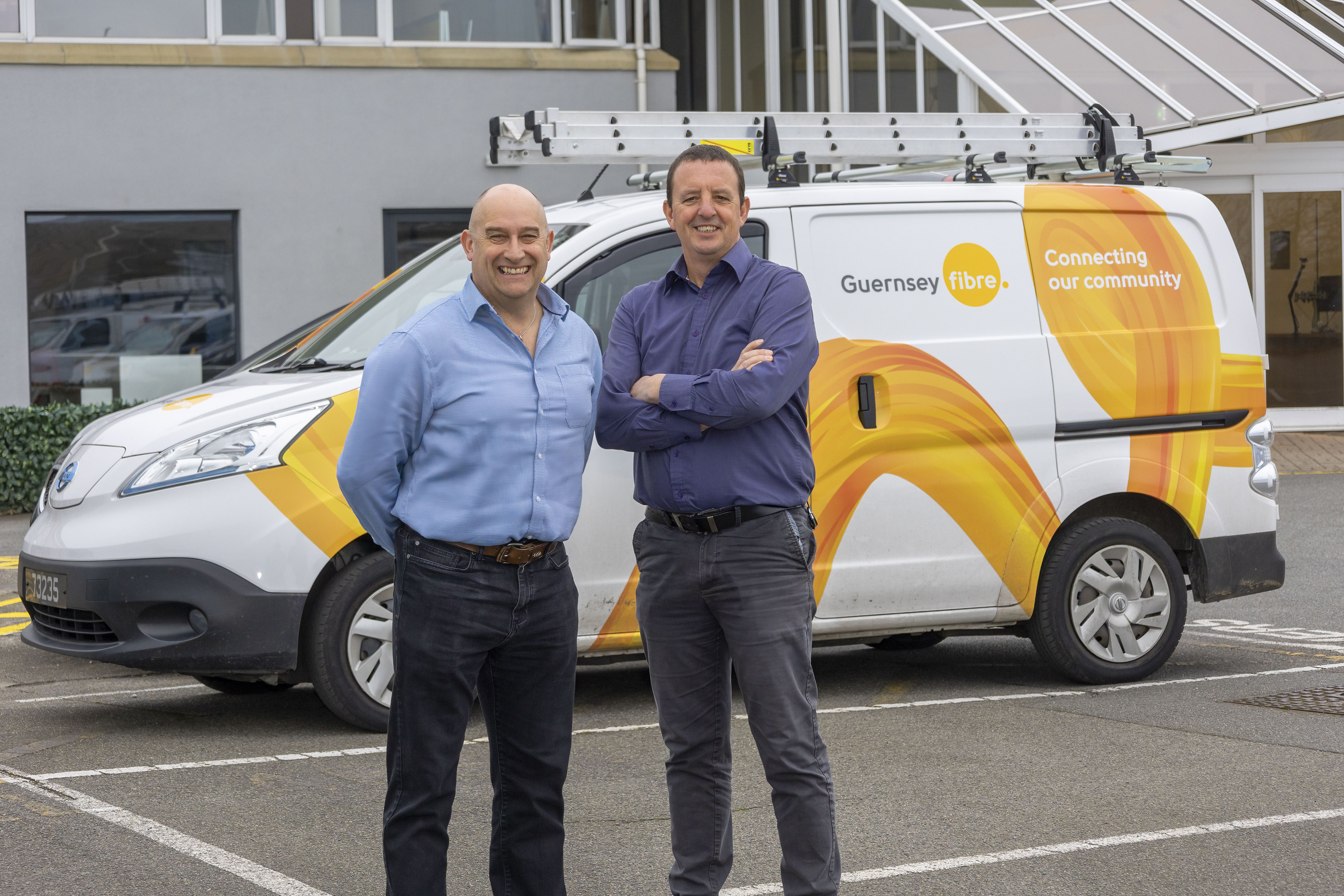 Guernsey Fibre in the community

As Community Liaison Officers, Paul McKane and Steve Holford are the key contacts for residents. It's their role to liaise with homeowners to answer any questions that they may have about Guernsey Fibre and ensure that the installation process runs smoothly.
"We're talking to islanders every day about how to get fibre into their homes. Often, this is straight-forward but questions do sometimes arise. For example, if we need to carry out work on the telegraph pole outside someone's property, or in their drive, it's our role to talk to the property owners and explain what needs to happen. Once we've agreed on a way forward, we liaise with our contractors to get the work carried out as quickly as possible", explains Paul.
Both agree that from the feedback they've received, the decision to bring fibre to the island was a welcome one.
"Fibre is going to be life-changing for islanders. Now more than ever, we all depend on digital and internet services and the fibre network gives every one of us the ability to access ultrafast speeds for streaming and gaming, and greater stability for homeworking", says Paul.
Steve added, "Installation is easy. Homeowners will receive a notification that their area is ready to connect to the fibre network and when they have booked their free fibre survey, we make all the arrangements with the contractors and engineers to get them connected.
"Some homeowners don't realise that the current system is ageing and that upgrading to the latest technology will provide them with a more reliable network. The existing copper cables, some of which date back to the 70s or even further, were put in the ground during the Occupation. They're coated in an insulative layer but are exposed to damp and are rotting. While they've survived seventy years or more, time has taken its toll, and many are starting to degrade. So, they've done very well, but it is time to move on."
Fibre equipment
Paul explained, "Each home will require a small piece of extra equipment that goes on the end of the fibre cables, enabling the network to connect to your home. This is called an ONT – an 'Optical Network Terminal' – a box, a little bit smaller than your router, and that needs to be plugged into your power supply. From there it'll then attach to your router and your phone line. So, you'll have a phone line going over your fibre network as well."
Paul says most people they've been speaking to are very excited about the prospect of faster internet and a more stable connection. "Fibre optic broadband has been in the UK for a while and so everybody wants it here," says Paul. "As soon as we turn up, people seem really excited to see us and to have the opportunity to connect to Guernsey Fibre. It's far more reliable so there won't be issues with the connection dropping out or speeds being limited when multiple devices are being used at once."