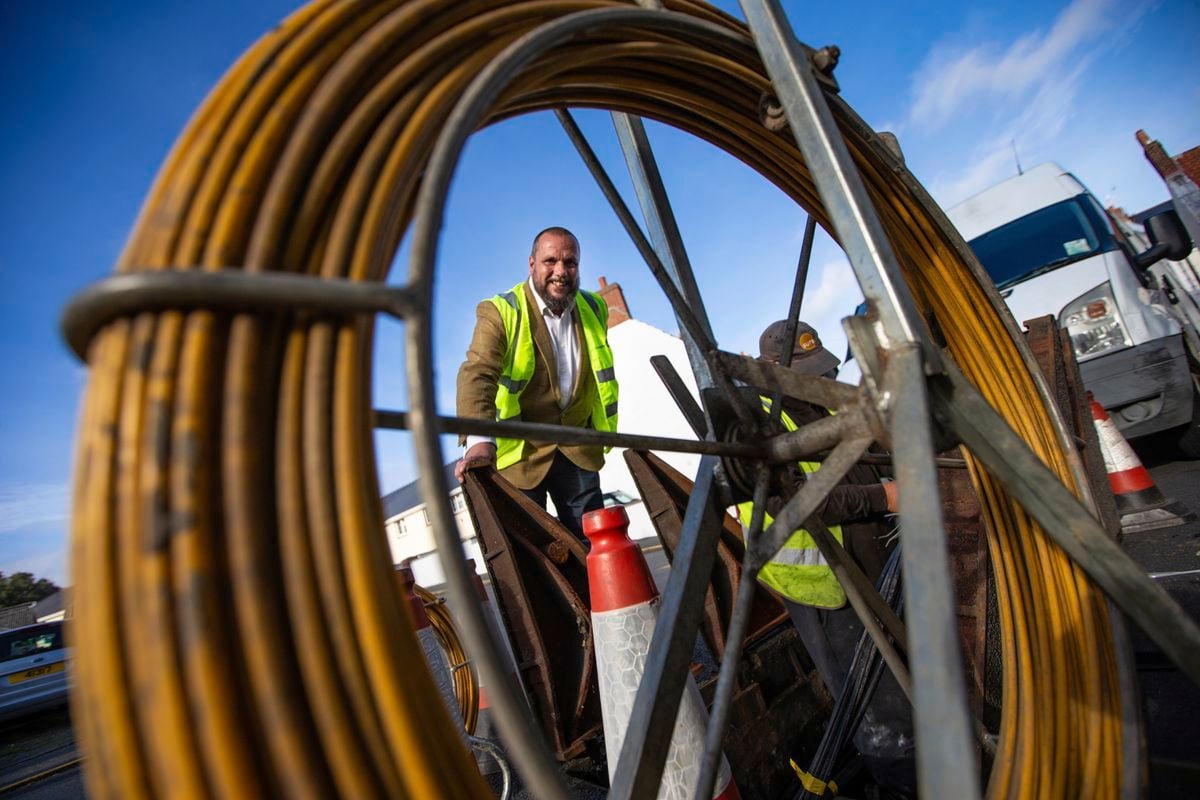 With the Guernsey Fibre pilot programme underway, we caught up with Sure Guernsey's Chief Executive, Justin Bellinger, to find out how the team are managing the roll out of a full-fibre broadband network.

Justin, since the States of Guernsey unanimously voted to support a five-year project to roll out fibre broadband, how's the project going?
We're currently in the pilot phase rolling out Guernsey Fibre, working in pockets around the island to install some of the equipment under the ground and up telephone poles.
Once this is in place, the first customers will be contacted by their Internet Service Provider (ISP) to let them know they can switch to fibre and get connected to the new network.

Sure vans and engineers are becoming a common sight on the roadside, what are the team doing at this stage?
Our engineers are currently testing fibre to premises and switching the overhead cabling from telegraph poles to fibre. Some work will be underground too, where there aren't telegraph poles.
For underground cabling, we share road closures with other utilities to minimise disruption. For example, there was some utility work in Route Militaire, so we installed our equipment at the same time.
There's extensive fibre cabling already in the ground in Guernsey, so we're extending to people's homes using more fibre, instead of copper cabling, which is how the current network operates.

How are the Sure engineers getting on with the new equipment?
Our engineers have plenty of experience working with fibre optic cables thanks to our existing network, but they're also learning new skills as we extend fibre to more homes.
Some of this work is incredibly detailed – fibre optic cables are thinner than a human hair and our engineers are splicing those cables to deliver them to homes.
We're learning a lot in this pilot phase and the team have already made amazing progress in designing new processes and developing the techniques they're going to need throughout this project. To do something at scale when every home is different is a big challenge.

Have you made any new hires for the project?
We've run the first set of interviews and the recruitment process is ongoing for some new roles. The whole project will create around 75 new jobs in Guernsey, with 29 of those here at Sure – with technicians, project managers, engineers and community liaison officers.
Full training is provided so this is a great chance for people to make a real impact in Guernsey. Anyone who's interested should head to our careers page to see the roles available.

Is the project on track?
We've made a great start and we're optimistic that we'll be able to hit our target of passing more than 7,000 properties by the end of 2022, with the whole project completing by the end of 2026.
Our roll out of Guernsey Fibre is going to bring super-fast fibre broadband to every home in Guernsey; speeds are going to be up to 50 times faster than today's basic broadband, so this is a landmark project for Guernsey.
We're making a big investment, and we're excited about how that's started.

Finally Justin, how will customers know when they can get fibre?
Once an area has Guernsey Fibre available, Sure as a wholesale provider will contact each retail ISP to let them know that a Guernsey Fibre connection is available to the market.
Any work to make the connection from the external equipment to inside the customer's home will be handled by us, so it's really very simple for customers. Our customer liaison officers will be available to answer any questions too, so we're doing all we can to make the switch over as smooth as possible.