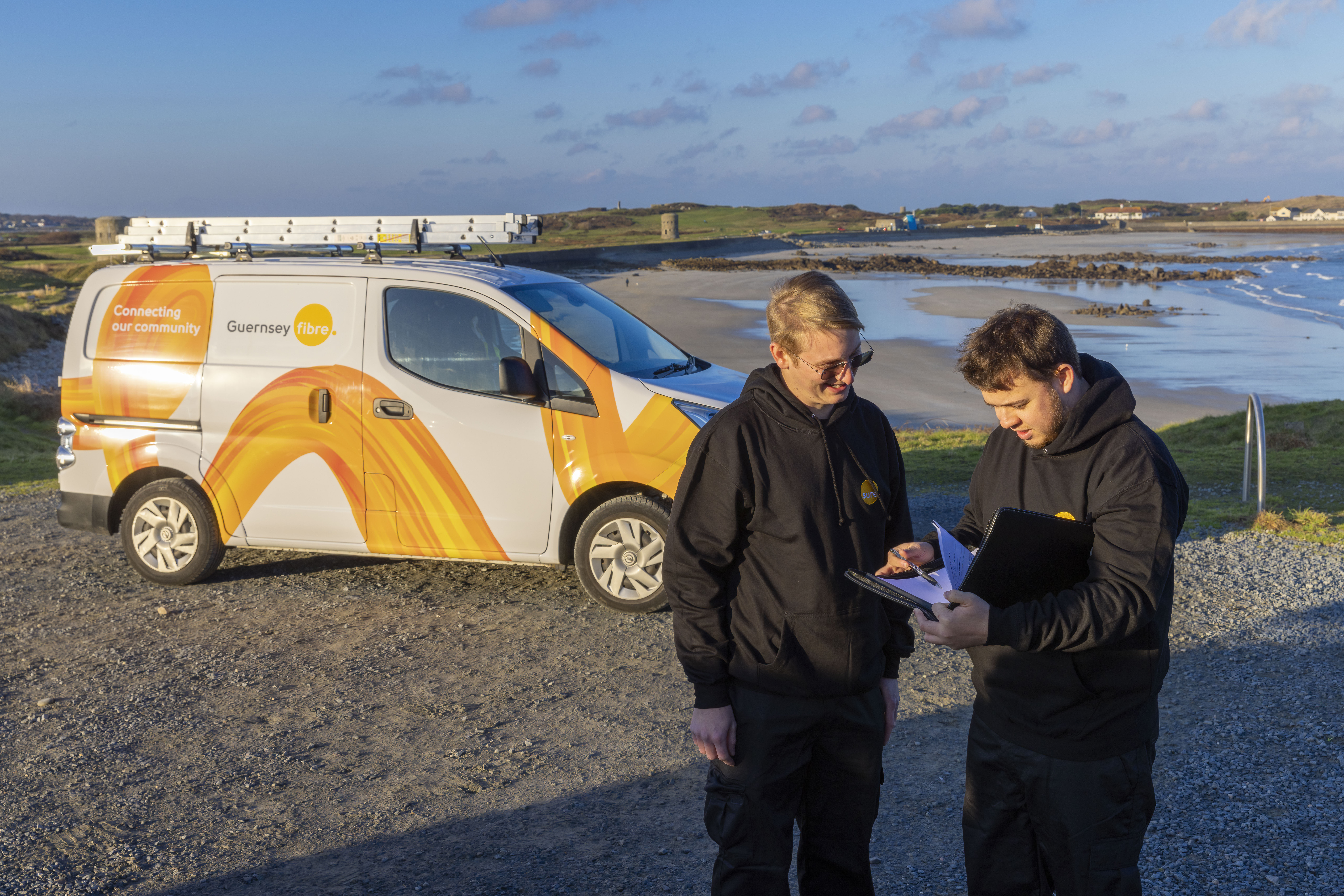 Be part of telecoms history with Guernsey Fibre
The launch of Guernsey Fibre is a landmark moment in the island's telecoms history. The £37.5m investment, £25m from Sure and up to £12.5m provided by the States of Guernsey, will connect every property with a faster, more reliable connection. Since telephones were first introduced to Guernsey, the Bailiwick has pushed the boundaries in communication and connectivity, and this investment marks the next step in our telecom's evolution. But how does it feel to be part of history in the making?
Tom Piprell, Fibre-To-The-Premises Installation Manager tells all:
How did your Guernsey Fibre journey begin?
It all started back in 2013 when I joined the Sure Academy. The academy is a two-year paid programme for school leavers to get trained up in the telecommunications industry. Once I completed the scheme, I received a permanent role as a Residential Technician.
A few years later the opportunity came up to work on installing Ultrafast Fibre Broadband in Guernsey. There are so many diverse roles in the telecoms sector and it's great to easily be able to move to different teams and try something new. I snapped up the opportunity to work on such an ambitious network build and was appointed as one of the first Fibre Installation Engineers in 2021. There're lots of opportunities to progress and work your way up the career ladder and recently I was promoted to Fibre To The Premises Installation Manager.
Why does the technology sector appeal to you?
I've always enjoyed taking things apart so that I can challenge myself to fix them. I embrace new technology and learning about the latest developments so for me it was a natural progression to be involved in an industry that allows me to do that every day.
What does your role involve?
As Installation Manager, I am responsible for managing the whole fibre installation team and ensuring they have the tools and equipment they need. I also visit customers to agree how fibre can best be installed in their home and carry out the installation as part of the team.
What's it like working on a network build that will underpin Guernsey's digital infrastructure?
It's exciting! So much of what we do now – whether it's learning, working, or entertainment – is online so fibre is more important than ever. After spending seven years working on the copper network, it's great to now be connecting people to fibre which is over 60 times faster, meaning you can stream, game, shop and download movies on multiple devices, all at the same time. Fibre is going to make a huge difference to islanders' lives and I feel proud to be a part of that.
What are the benefits of the job?
The job is different every day; visiting all kinds of properties from offices to tucked away houses that you'd never realise existed. There are so many opportunities, and the team is very friendly and supportive. We often have sports and social events which are good fun.
As well as it being a very enjoyable and rewarding job, there are plenty of other benefits including flexible working, free healthcare, a free mobile phone contract, free superfast broadband, discounted mobile phones, bonuses and a pension scheme.
What's your funniest memory on the job?
I almost accidently took a cat back to the office with me! After leaving a customer's house I found their cat had made itself at home in my van. Maybe he wanted to be our newest recruit!
What's something you've learnt?
Communication is more important than any other skill; ask questions to anybody that may be able to answer them and pass on your knowledge to anyone wanting to learn.
What advice would you give people looking to get into the technology industry?
Research the sector and be open-minded about roles. The most important thing is finding a company that wants to train you and help you to progress.
To register your interest in working on the Guernsey Fibre project, please email [email protected].